Metalock and Timesert Thread inserts
Metalock is about casting repairs. Cracks often start in bolt holes or run into them as they are often an area of less mass. As part of the repair we have to metalock up to and into the thread – then thread insert it to ensure full use/ sealing and strength criteria are met as part of the repair.
These pictures on a pump repair show fractures which must be contained / repaired to stop crack growing in service and is an example of common wall thickness criteria – The 1 1/8"Thread insert here has to be solid – can't fit a coil type insert, but there is not much room either so a thin wall bush is needed. These applications call for synchronised thread inserts which we make in larger sizes. But it is not just for thin casings you want synchronised threads – it also for minimum stock removal, which equates to speed of installation and less debris / clean up.
Thankfully we don't have to make them in smaller sizes - we use Timesert thread insert system. An off the shelf engineering marvel– Have done for nearly 20 years. Liked it so much we became the importer distributor through our affiliated company Diesel Equipment P/L. See the facts below and tell us what you think – we reckon they're great.


Typical drain or sump plug application
Timesert
Thread Repair System
The Timesert thread repair system is the best available. Timeserts are a thin wall, solid bushing with the internal and external thread synchronised. This allows for minimal stock removal from parent threads with all the advantages of high integral strength, sealing against liquids and gases. The flange on the insert negates the possibility of the insert winding through with the bolt/stud. The bottom few threads of the Timesert are not fully formed until a broaching tool is driven through, which exerts side wall pressure, making the insert difficult to remove under normal winding in and out of bolts, etc. They are used in many applications at an O.E.M. level to strengthen threads in new products and of course repair of damaged threads. A thick wall Bigsert derivative is also available.
Available in Inch, Metric, Sparkplug, Sump plug, Pipe, head bolt and major OEM configurations.
Suitable for the most intense operations
as used on brake systems in Aircraft applications and F1 racing.
Check www.timesert.com for complete range - updated regularly
Please ask us for price and availability [our stock levels are huge].
In the unlikely event we don't have it in stock our freight system is unbelievably quick on Timesert goods ex USA


FAQ Frequently Asked Questions Please read in conjunction with Other Timesert Installation Tips.
[Don't see your answer here – ask us]
1. What size do I need? The Kit you require is the same thread size that is damaged. e.g. Q. Have 3 off 12x1.75 holes in my block which I need to repair. Do I need a 13mm or larger kit? A. 12x1.75 Timesert Kit.

2. What materials are Timeserts made of? The standard Timeserts are phosphate coated 12L14 Carbon Steel, Stainless steel versions are 303 Stainless Steel, 14X1.25 Racing sparking plugs are 2024 T351 Aluminum

3. When should stainless steel inserts be used? We recommend the standard carbon steel inserts for most applications. Stainless steel is recommended for the medical or food industry, and water applications. Stainless steel may cause galling in heated applications.

4. Can Timesert be installed in blind holes? Yes. Allow 6.3mm deeper than the insert itself for the relief angle length of the tap we have to account for to get a full thread. This can vary as small taps will have shorter relief angle length [which is the length from the tip of the tap to the first "full" thread].
The extra depth also gives us enough room for the install driver to slightly pass though the bottom of the insert to expand the last few threads, locking it in place.

When repairing a blind hole you "do not" want to bottom out the driver tool upon installation. Safeguard against bottoming the tool out by placing a visual mark on the driver tool. Before installing the insert, place the driver tool into the hole and mark the tool at the point it can't enter any further. This way we know exactly how deep the hole is and there is no danger of bottoming the tool out.

5. Can Timesert be removed easily? Timeserts can be removed with a screw extractor, or drilled out with the drill that came in the repair kit.

6. Can another Timesert be installed if an existing one is worn? Yes, if the threads in the base material are not damaged a new Timeserts can be re-inserted into that hole. This is a common practice on CNC pallet changers. The insert can be removed with a screw extractor then replaced with a new one.
7. What types of plating are used on Timesert inserts? The standard Timesert carbon steel inserts are plated with zinc phosphate. Sparkplug washer seat inserts are plated with copper plating and sparkplug taper seat are silver plated.
8. Can Spark plug repair be done without removing the head from the motor? Yes Spark plug repair can be done without removing the head by placing heavy grease on the step tap flutes to catch the chips. Using a shop vac with a plastic tube taped to the nozzle end works well for removing any stray chips left over. But realistically if the head needs other work – now is the right time to take it off as it is easier.
9. Are special lengths of inserts available? Yes, we have many special lengths of inserts available not listed in the catalogue. Custom lengths of inserts can be ordered, but on 1000 minimum basis. ETA 5-7 weeks.
10. Can I repair a stripped helicoil with a Timesert? No. The over-sized line is called BIG-SERT. These Heavy wall inserts are for holes that have been damaged by being drilled and tapped oversize in an emergency situation, elongated when removing a broken stud / bolt, or to replace a failed insert repair. Note: These have a special locking pin that makes it impossible for them to come out without drilling them out / or doing bad damage to the parent material. Always drill out a Bigsert – never use a screw extractor.
11 Is my hole too large for a Timesert? If the hole is just stripped out and has never been repaired Timesert will repair that hole. You can check the drill size from the TIMESERT® Engineering Data at the bottom of this section, the drill size should be slightly larger than the stripped out hole. If bigger use Big-Serts.
12. Can Timesert inserts be shortened for length? Generally No [but refer 15]. You cannot cut off the bottom or top of the inserts. The top has a flange which gives the insert a place to sit for positive placement. The bottom of the insert is the locking portion.
13. Do Timesert inserts use special taps? Yes, Timesert inserts use S.T. I. [screw thread insert] taps made from M2 high speed tool steel to an H3 limit.
14. Inserts only screw onto the insert driver 1 or 2 threads? The insert driver is a few thou larger on the pitch diameter than the tapped hole so it forms the last few threads of the insert, locking it in place.
15. The hole being repaired is shorter, than the length of your shortest insert? You can install a Timesert without using a counterbore leaving the shoulder sticking up to remove later on by milling or filing. Drill the hole out, "DO NOT" use counterbore tool, tap the hole. Screw the insert in the hole with loctite to the desired location. Let the insert set up with the loctite before running the insert driver tool through the insert. The loctite will prevent the insert from going to deep into the prepared hole. Use the driver tool to expand the last few threads of the inserts. It's recommended to run the insert driver back through the insert to clean any burs at the top of the insert. The repair is complete.

16. Can Loctite be used on the external thread of insert? Yes, loctite may be used on the external threads of the insert, due to the solid wall design there is no danger of it leaking thru to the internal threads. Loctite 620 or 272 is recommended because of its higher temperature rating, greater viscosity and strength.

Application Spark plug taper seat: Loctite 620 or 272 is required on taper seat spark plug inserts. Only the taper seat style spark plug inserts require loctite not washer seat [though we use it on all Timeserts we install]. We are sealing on the built in taper of the insert so we have a perfect seal from the spark plug to the insert but we need to insure that the external threads of the insert are sealed by the loctite to keep any gases from passing by the external threads of insert as a precaution.

Application Head Bolt: We recommend Loctite 620 or 272 on external threads of insert in head bolt applications.

17. Head bolt repairs: Should just the 1 or 2 bad hole be repaired? We recommend repairing all holes. If you only repair the bad hole or holes and leave the others there is a chance the other holes may fail. Especially with aluminum blocks and over heating you can experience an anneal effect where the material becomes brittle. If you tape across all the holes on top of the cylinder block this will help keep all chips from entering the water jacket and piston holes.
18. I only have 1 thread to do can someone do it for me? Yes, we do fit inserts as required. Or can usually recommend someone in your area that provides that service.
19. The size I need is not listed. Is there an alternative? Yes, Timesert keep adding different thread sizes and length of inserts to their range [Usually updated on their website]. Alternatively, [in larger sizes] we can make solid thread insert bushes to order along with appropriate tooling but they are not Timeserts. ETA usually 3-5 working days.
20. Are tools available separately? Yes, tools wear, break or go missing - all individual Timesert and Bigsert tooling is available.
21. What are the differences of TIME-SERT to coil style inserts? 1 Timesert inserts have no prongs or tangs to break off or deal with down in the hole. 2 Timesert inserts have a flange. This ensures that the insert does not wind down into the threaded hole. 3 You may use Loctite®-There is no danger of loctite passing through the threads of the insert and locking up the bolt.
22. Comparisons to other Thread repair systems - Keensert, Full-Talk, coil inserts
Keenserts are steel thick wall units having 4 pins holding them in position. Several problems on these: So much material to remove, so not suitable for many casings. External Thread is rather shallow so most suitable in steel applications, which was their initial focus, and pins do not allow sealing on outside of insert. Tooling is fairly simple though. Cost of inserts little expensive. Appearance when fitted – you know it has been repaired.
Full-Talk wall thickness varies to keep tooling down but are still thick wall in comparison to Timesert and coil inserts. Tooling /inserts very expensive. Have a history of changing their tooling on specific manufacturer's kits – real hassle for trade. Appearance good when fitted.
Thin Wall is the way to go - more so everyday. Materials components are being made thinner and thinner. Manufacturers regularly ask "What is the thinnest We can make this casting "? Everything needs to use less material to be cost effective
Coil inserts Cheap, readily available and Stainless – but have issues of insert coming out with bolt, hole size enlarging over time / load in Alloy applications, non sealing. Not much Tooling required and inserts are not expensive. Huge range of sizes available. Thin Wall. Appearance when fitted – you know it has been repaired.

Timesert is a thin wall, solid bushing, self locking insert with positive placement. [Threads are synchronised internally and externally or Timed - hence the name Timesert] On installation the bottom few internal threads of the insert are cold rolled to expand into the mating external threads of the base material locking the insert in place. Being a solid bushing insert gives it added strength. Advantages: Seals, Integral strength, Thin Wall, Appearance VG, Insert Pricing.
At the end of the day – Timesert really are the best thread insert available.

Spark Plug Thread Repair Inserts
A common problem of coil inserts is that they frequently come out with the spark plug when changing the spark plugs. These Timesert products don't. Another issue that coil inserts in service on Aluminium cylinder heads eventually expand the parent bore dimensions with cyclic loading.

Timesert sparkplug thread repair kits come in 10mm,12mm, 14mm, 18mm and 7/8-18 configurations and to suit Ford Triton 1.9, 3.8, 4.6, 5.4, 6.8 litre engines applications and are available ex stock [And now a sparkplug thread repair 1/4-32 kit for RC engines]

The inserts come in various lengths. Note: SPARK PLUG KITS DO NOT INCLUDE INSERTS
Washer seat inserts are copper plated for heat transfer and identification. Taper seat inserts are Silver plated. Steel inserts typically have a higher tensile strength than aluminum.
In racing applications where Nitromethane is used as a fuel M14x1.25 Inserts are available in aluminum.
M14x1.25x16.8mm spark plug Insert:
The 16.8mm length is typically used in what
is considered 3/4 reach spark plug applications.
part number 44111
| | | |
| --- | --- | --- |
| Tapered Seat spark plug inserts have a special taper cut into the internal flange of the insert that will match the taper of the spark plug. Sealer p/n 6020 must be used on the external threads of all tapered seat inserts. [Sealant Loctite 620] | | Bigsert " OVERSIZED HOLES" For Spark plugs that have been previously repaired. The outside thread of the BIG-SERT is M18x1.5, the stripped hole should not be larger than 16.3mm or .640 inches. These Heavy wall inserts are available for spark plug holes that have been seriously damaged by other failed repair inserts. These have a special locking pin that makes it impossible for them to come out without drilling them out / or doing bad damage to the cylinder head. Always drill out a bigsert – never use a screw extractor. |
Other Timesert Installation Tips.
1] Follow manufacturer's instructions
2] You MUST oil the Driver – we have seen many broken drivers because they were used dry
3] Harder material / slow the speed and increase load.
4] When using the drill, tap and counterbore - Lubricate with cutting fluid. In steel, SS or even cast iron use cutting paste or fluid - Trefolex or similar. But use something - even engine oil or grease is better than nothing. This will allow tools to cut easier and last longer.
In Aluminium use Methylated spirits.
5] Deep installation kits – are rarely stocked because they are expensive and usually not required. You can extend reach on normal Timesert / Bigsert tooling by fitting a 3/8 or ½" drive socket of the correct size and extension bar
6] Tap guides are used to ensure tap alignment is correct and is included in certain head bolt kits etc. They can only be used on surfaces that are flat. Tap guides are plain tubes that can be lathed up. At the minimum use a small right angle or get someone to line up of a reference pin/bolt
7] Tooling.
Taps are individually suited to that specific thread [the thread on the insert is synchronized] so an 8x1.25 timesert tap is different from an 8x1.0. Some of the Recoil STI taps are very close in size to the Timesert STI taps - but measure to be sure if using a recoil tap before fitting any Timesert.
Drills – if worn or chipped sharpen them on a grindstone. They are pretty standard items - you can measure them with a vernier or micrometer [or check on Timesert Engineering Data chart below] and get them locally but make sure they are the right size.
Broken tap removers are available for all taps including S.T.I. Refer Walton Tap Extractors in Products section or contact us if it is for an STI tap for correct part number.
8] Loctite sealer. Timesert refer to their part no. 6020 which is Loctite 266. This is an American Number and not available in Australia – Closest Australian equivalent is Loctite 272 or 620.
9] Tap sharpening – really difficult to do by hand – tap grinding jig or tool room grinder is the best
10] Timesert installers in Different states. We have a database of companies that fit thread inserts in Different states and areas – not a comprehensive list but it may just be the ticket in your region. Please ask.
11]
Installation of timesert insert – if worrying about insert not going to full depth when driving home do what we do – make up a nut and bolt set probably 40-50mm L [depending on size] and lathe down the end of the nut 3-4mm so it is the same as /slightly under the flange diameter. This reduced nib will ensure insert is driven to correct depth [as long as counterbore depth is right]
TIMESERT® Engineering Data
METRIC KITS
INSERT
DRILL
C.BORE
TAP
SIZE
DRILL
SIZE
MIN.
DIA
MIN.
DEPTH
MAJOR
DIA.
M3x0.5
1/8
.125
.170
.055
.140
M4x0.7
#19
.166
.226
.065
.194
M5x0.8
#8
.199
.279
.075
.238
M6x1.0
D
.246
.319
.075
.290
M7x1.0
L
.290
.351
.075
.330
M8x1.0
P
.323
.409
.080
.369
M8x1.25
P
.323
.419
.080
.381
M9x1.25
U
.368
.440
.080
.422
M10x1.0
13/32
.406
.466
.080
.440
M10x1.25
13/32
.406
.500
.085
.463
M10x1.5
13/32
.406
.500
.085
.474
M11x1.25
29/64
.453
.542
.085
.503
M11x1.5
29/64
.453
.552
.085
.516
M12x1.25
31/64
.484
.560
.085
.540
M12x1.5
31/64
.484
.595
.085
.552
M12x1.75
1/2
.500
.605
.110
.567
M13x1.5
17/32
.531
.612
.085
.594
M14x1.5
37/64
.578
.668
.110
.634
M16x1.5
21/32
.656
.743
.130
.713
M16x2.0
21/32
.656
.787
.115
.741
M18x1.5
23/32
.718
.837
.125
.794
M20x1.5
51/64
.797
.925
.120
.890
M22x1.5
7/8
.875
.950
.100
.940
M24x1.5
24.5
.963
1.030
.750
1.010
INCH KITS
INSERT
DRILL
C.BORE
TAP
SIZE
DRILL
SIZE
MIN.
DIA
MIN.
DEPTH
MAJOR
DIA.
4-40
#31
.120
.170
.055
.147
6-32
#26
.147
.218
.070
.182
8-32
#17
.173
.241
.065
.208
10-24
13/64
.203
.288
.075
.247
10-32
13/64
.203
.274
.075
.234
12-24
#1
.228
.307
.075
.265
1/4-20
17/64
.265
.352
.075
.319
1/4-28
G
.261
.340
.075
.300
5/16-18
21/64
.328
.430
.085
.388
5/16-24
P
.323
.410
.080
.368
3/8-16
X
.397
.495
.085
.460
3/8-24
W
.386
.473
.080
.432
7/16-14
29/64
.453
.571
.110
.534
7/16-20
29/64
.453
.547
.085
.506
1/2-13
33/64
.515
.648
.110
.604
1/2-20
33/64
.515
.610
.085
.569
9/16-12
19/32
.593
.711
.130
.675
9/16-18
37/64
.578
.668
.110
.638
5/8-11
21/32
.656
.787
.135
.748
5/8-18
41/64
.640
.740
.110
.701
3/4-10
25/32
.781
.953
.135
.885
3/4-16
49/64
.765
.870
.110
OVERSIZED THREAD REPAIR KITS AND INSERTS -BIGSETRS
These kits are used for threads which have been previously repaired by helicoil, perma-coil, uni-coil, recoil or any other similar coil style insert that has failed. They area a heavy wall solid bushing which will repair oversize holes and gives increased load protection for critical use.
BIG-SERT ® THREAD REPAIR KITS AND INSERTS
INCH
METRIC

KIT SIZE

PART NO.

INSERTS

KIT SIZE

PART NO.

INSERTS

LENGTH
INCHES

PART
NO.

LENGTH
mm

PART
NO.

1/4-20

5420

.380
.500

54201
54203

M5x0.8

5508

7.6
10.0

55081
55083

1/4-28

5448

.380
.500

54481
54483

M6x1.0

5610

9.4
12.0

56101
56103

5/16-18

5561

.450
.620

55611
55613

M8x1.25

5812

11.7
16.2
18.0

58121
58123
58125

5/16-24

5562

.450
.620

55621
55623

M10x1.0

5011

9.0
15.0

50111
50113

3/8-16

5381

.400
.520
.750
1.000

53810
53811 53813
53815

M10x1.25

5012

14.0
20.0
24.5

50121
50123
50125

3/8-24

5382

.520
.750

53821
53823

M10x1.5

5015

14.0
20.0
24.5

50151
50153
50155

7/16-14

5761

.600
.870
1.000
1.250

57611
57613
57615
57617

M11x1.25

5112D

30.0

51125

7/16-20

5762

.600
.870

57621
57623

M12x1.5

5215

9.2
16.2
24.0
30.0

52150
52151
52153
52155

1/2-13

5121

.480
.650
1.000

51210
51211
51213

M12x1.75

5217

12.0
16.2
24.0
30.0

52170 52171
52173
52175

1/2-20

5122

.650
1.000

51221
51223

M12x1.25

5212

9.0
15.0
17.5
24.0
30.0

52120
52121
52122
52123
52125
NOTE:
Bottom few internal threads are incomplete.
The insert driver (Roll form tap) seats the insert and completes the bottom threads. This pushes the pin out to contact the threaded hole. Back out of the insert is prevented by the cam lock effect of the pin.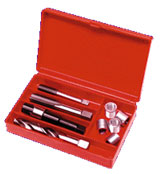 KIT CONTENTS:
Drill
Counterbore
Tap
Insert Driver
Five (5) Steel Inserts


BIGSERT® Engineering Data


METRIC KITS

INSERT

DRILL

C.BORE

TAP

SIZE

DRILL

SIZE

MIN.
DIA

MIN.
DEPTH

MAJOR
DIA.

M5x0.8

D

.246

.290

.050

.290

M6x1.0

L

.290

.330

.055

.330

M8x1.25

13/32

.406

.474

.085

.474

M10x1.0

31/64

.484

.552

.085

.552

M10x1.25

31/64

.484

.552

.085

.552

M10x1.5

31/64

.484

.552

.085

.552

M12x1.5

37/64

.578

.634

.085

.634

M12x1.75

37/64

.578

.634

.085

.634
INCH KITS

INSERT

DRILL

C.BORE

TAP

SIZE

DRILL

SIZE

MIN.
DIA

MIN.
DEPTH

MAJOR
DIA.

1/4-20

7.8mm

.307

.355

.050

.359

1/4-28

L

.290

.330

.055

.330

5/16-18

13/32

.406

.474

.085

.474

5/16-24

13/32

.406

.474

.085

.474

3/8-16

31/64

.484

.552

.085

.552

3/8-24

31/64

.484

.552

.085

.552

7/16-14

37/64

.578

.634

.085

.634

7/16-20

37/64

.578

.634

.085

.634

1/2-13

41/64

.640

.701

.085

.701

1/2-20

41/64

.640

.701

.085

.701