Specialised Repair/Maintenance Tools
---

Need Specialised Taps and Dies Quick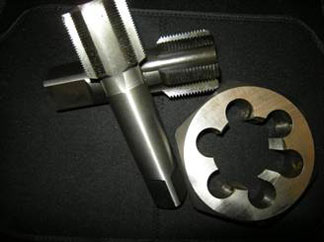 Really Big Taps up to 4"/ 100mm in all pitches fine & coarse generally available in 3-5 days and especially Made to order [in Australia]. Includes Pipe Taps (BSP, BSPT, NPT, etc.,) to 3" and STI or thread inserts. Note: Tap availability depends on raw materials / tap drawings to hand.

Many taps ex stock - in a huge range of different sizes /configurations: BSF, BSP, Metric Fine and Coarse, UNC, UNF, UNEF, BA and Specials Thread Insert Taps [for coil inserts]







---

Timesert thread repair inserts are the best system we have seen for repair or strengthening damaged or even new threads as part of the manufacturing process. Available in thin and thick wall [Bigsert] configurations in most popular thread sizes. For Full Listing visit http://www.timesert.com/

Please look at our Thread Repairs section for full information

TIME-SERT® FOR PERFECT REPAIR OF DAMAGED OR STRIPPED THREADS.
The Timesert system is based on solid thin wall inserts – withstands high stress vibration, frequent tightening cycles.

Advantages:

TIME-SERT® is very thin due to synchronized internal and external threads. Less stock removal.
TIME-SERT® is pressure sealed upon installation. Liquids & compressed gases will not flow around the insert.
TIME-SERT® is self-positioning. Having a flange it cannot wind down into the newly repaired hole.
TIME-SERT® is self locking. On installation the bushing will not come out with screw / bolt.






Certain sizes are available in Stainless Steel – suitable for corrosive environment or food equipment.

Applications: Stud bolt threads, High load bearing applications, head bolts, diff stud bolts, spark-plug threads.

Suits Following Materials: Aluminum, Cast iron, Steel, Brass etc,.

Available in different materials: SS for corrosive areas, Copper plated for sparkplug applications for better heat transfer.

Used by O.E.M's to strengthen/reinforce threads in new products and of course repair of damaged threads.

Huge stock levels




---
Walton Tools
make very handy tap extensions and a wonderful broken tap extractor – which
enables removal of fractured taps
in most situations. They use high tensile fingers which fit in the original tap flutes. Available in various sizes and flute number, i.e. 3 flute tap, 4 flute tap. They save many hours
www.waltontools.com/
Removing broken Taps – the Easy Way
Thoroughly remove all chips of the broken tap. Insert the Extractor fingers into the flutes of the broken tap, pushing them gently, but firmly, into position. 2. Push the holder down until it touches the broken tap. Slide the sleeve down until it touches the work. 3. Apply a tap wrench to the square end of the holder. Twist forward and backward a few times to loosen, then back out the broken tap. Master sets Available too – just ask


---
Sump-Drain Plugs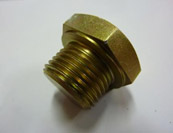 Standard c/w washer
- no Magnet



---
Flex-Hone Surface Finishing Tools are predominantly used for plateau finishing or de-glazing engine bores. Other uses include rust removal, blending in, de-burring. These tools provide those benefits without any real stock removal, are self compensating for wear, extremely easy to use and are virtually unbreakable.

Typically we stock these sizes in 180, 240 and even 400Grit in the larger sizes. Material is Silicon Carbide. Sizes up to 8 inch [203mm] are generally available ex stock.

Note: When ordering advise bore size as these are 10% oversize to allow for side wall pressure in application.

FAQ
What RPM do I use?
How do I know what grit size I have?
Will it remove too much material?
Why is the tool I got larger than what I ordered?
What RPM do I use? These are just guidelines
The rpm will vary with the size of the tool and will range from 1200-60 RPM.
The smaller the hone, the faster the speed. For a 1" tool around 800 RPM,
3" - 700 RPM. For a 6" tool nearer to 450 RPM and so on.

19" to 36" 60 to 120 RPM
12" to 18" 80 to 350 RPM
8" to 12" 300 to 500 RPM
4" to 8" 400 to 700 RPM
2" to 4" 600 to 800 RPM
1" to 2" 700 to 900 RPM
4mm to 1" 800 to 1200 RPM

How do I know what grit size I have?
The grit is identified by a coloured marking on the tip. i.e.
Red 180grit Blue 240Grit Yellow 400Grit

Will it remove too much material?
No. The Flex-Hone tool is a surface finishing tool, not a material removal
tool. We are reducing the rough peaks of a surfaces microstructure and typically remove a small amount of material.

Why is the tool I got larger than what I ordered?
Because the tool needs to be slightly oversized to function properly.
The tools should always be ordered to the true ID/bore



---
Protima Stainless Steel pressure tanks

These quality SS pressure tanks, are certified and come complete with full-size opening
Available in 4L up to 50L in standard, manual & air agitation format - with polished interior
www.metsce.com